January: Stewardship emphasis

1/7: Epiphany/end of Christmas season/undecorate/Stewardship 1

1/11: Worship mtg - 7pm

1/14: Stewardship 2/youth ice cream social fundraiser/MLK weekend workshop after worship?

1/15: MLK day - school kits

1/19-20: church leadership retreat

1/21: Stewardship 3 - Commitment Sunday

1/28: Outreach team - witnessing workshop for congregation

2/4: Youth Super Bowl Sunday sub sandwich fundraiser

2/11: Love Sunday/Pinata party/Love Times

2/14: Ash Wednesday - beginning of Lent (devotions written by members this year)

3/25: Palm Sunday & beginning of Holy Week

3/29: Maundy Thursday

3/30: Good Friday

4/1: Easter
---
Small Groups
If you are not in a small group here at church, you could be! We have a Sunday morning Bible study, and several groups that meet during the week. We are ready to launch more groups now that we are in the new year. Are you interested? Contact Tom, and he will arrange a get-together for interested people.
2018 Offering Envelopes & Electronic Giving
For anyone not currently giving electronically, your offering envelope boxes will be available on the back table tomorrow. If you want envelopes, talk to Amy Keller or to Tom. Envelopes for children will be available starting in January.
Hate Has No Home Here - Posters for Free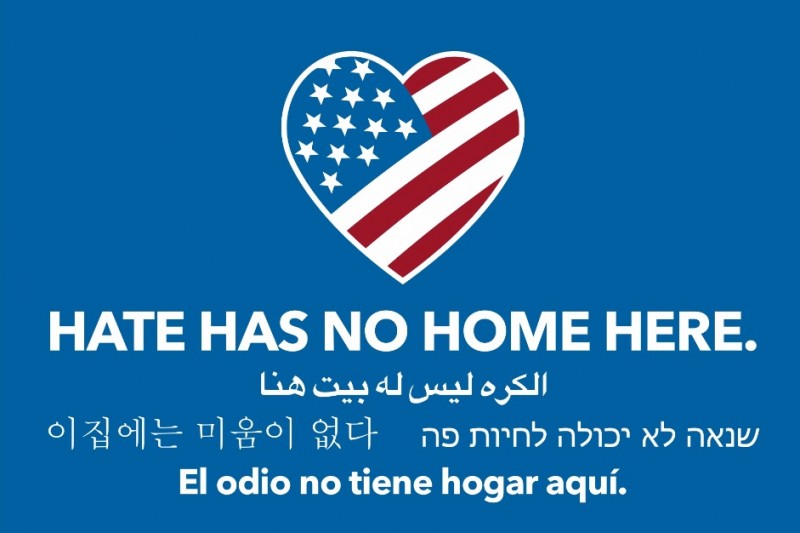 Hollywood North-Park Community Association are making available posters to put in windows, decrying the hate and violence which is growing in our nation. Our church supports these efforts, and encourages you to place a poster in your window. They are available for free at the back of the worship area. For more information, to order a yard sign, or to make a donation so more posters and signs can be printed, please visit their home page.