A luncheon in honor of Pastor Tom's 30th anniversary of ordination
When: Sunday July 9th immediately after worship 
RSVP
In Honorum, There is a man walking down a Chicago street
Peacemaker Village is Coming
We will be offering a Peacemaker Village this summer - for adults, children, and families - as part of our efforts to bring peace to our homes, our neighborhood, Chicago, and around the world. We will include activities such as peacemaker skills, nonviolent alternatives, conflict resolution, and more. Talk to Paul Tyler, Nancy Williams, or Tom, on how you can be involved.
---
Small Groups
If you are not in a small group here at church, you could be! We have a Sunday morning Bible study, and several groups that meet during the week. We are ready to launch more groups now that we are in the new year. Are you interested? Contact Tom, and he will arrange a get-together for interested people.
2017 Offering Envelopes & Electronic Giving
We encourage members and friends to give their offerings electronically, which is easier for you and makes our bookkeeping simpler too. Talk to church treasurer Mike Lindgren for info. Offering Envelope boxes will be at the back of the worship area this Sunday. If you would like one but none has your name on it, talk to Jack Fritts. If you need them mailed, contact the church office.
Hate Has No Home Here - Posters for Free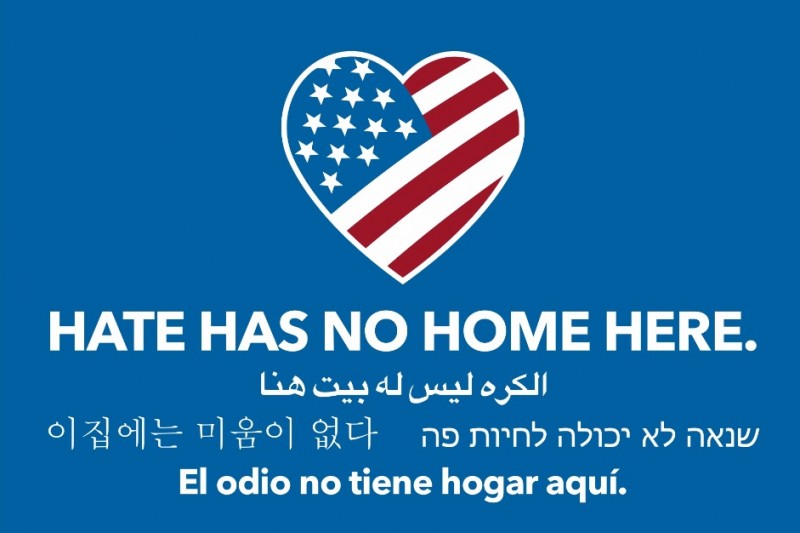 Hollywood North-Park Community Association are making available posters to put in windows, decrying the hate and violence which is growing in our nation. Our church supports these efforts, and encourages you to place a poster in your window. They are available for free at the back of the worship area. For more information, to order a yard sign, or to make a donation so more posters and signs can be printed, please visit their home page.