Advocate for Justice
Want to know how to influence our nation for good? Subscribe to the ELCA Advocacy newsletter, to learn more about healthcare policy, climate change, Israel and Palestine, refugees, and more. If you want to join our Advocacy Team, talk to Tom, and you can hear about important legislation as it heads for a vote.
May: Mental Health Awareness Month
There is no shame in needing help, or in asking for help. This month, if you or someone you know needs support, please contact The Kedzie Center or other trained therapists for help.
Approximately 1 in 5 adults in the U.S.—43.8 million, or 18.5%—experiences mental illness in a given year. 
Approximately 1 in 25 adults in the U.S.—9.8 million, or 4.0%—experiences a serious mental illness in a given year that substantially interferes with or limits one or more major life activities. •
Approximately 1 in 5 youth aged 13–18 (21.4%) experiences a severe mental disorder at some point during their life. For children aged 8–15, the estimate is 13%. 
1.1% of adults in the U.S. live with schizophrenia.
2.6% of adults in the U.S. live with bipolar disorder.
6.9% of adults in the U.S.—16 million—had at least one major depressive episode in the past year.
18.1% of adults in the U.S. experienced an anxiety disorder such as posttraumatic stress disorder, obsessive-compulsive disorder and specific phobias.
Among the 20.2 million adults in the U.S. who experienced a substance use disorder, 50.5%—10.2 million adults—had a co-occurring mental illness.
"God of love, today as we celebrate Mental Health Awareness Month, stir in us deep compassion for people living with mental health struggles and their families. Raise our awareness of how we can create a supportive and safe spiritual community for people who feel isolated, shunned and ashamed. Inspire us to reach out in love as a sign of your radical hospitality and grace. Encourage us to receive the gifts that are given by all, including those who are living with mental health challenges. Amen." (By Rev. Sarah Lund )
Peacemaker Village is Coming
We will be offering a Peacemaker Village this summer - for adults, children, and families - as part of our efforts to bring peace to our homes, our neighborhood, Chicago, and around the world. We will include activities such as peacemaker skills, nonviolent alternatives, conflict resolution, and more. Talk to Paul Tyler, Nancy Williams, or Tom, on how you can be involved.
Church Campout - June 3-4
All are welcome to join with others for a Saturday evening of camping, followed by Sunday morning worship and Open House at Lutherdale Camp. Talk to Tom for details, or to reserve your spot.
---
Small Groups
If you are not in a small group here at church, you could be! We have a Sunday morning Bible study, and several groups that meet during the week. We are ready to launch more groups now that we are in the new year. Are you interested? Contact Tom, and he will arrange a get-together for interested people.
2017 Offering Envelopes & Electronic Giving
We encourage members and friends to give their offerings electronically, which is easier for you and makes our bookkeeping simpler too. Talk to church treasurer Mike Lindgren for info. Offering Envelope boxes will be at the back of the worship area this Sunday. If you would like one but none has your name on it, talk to Jack Fritts. If you need them mailed, contact the church office.
Hate Has No Home Here - Posters for Free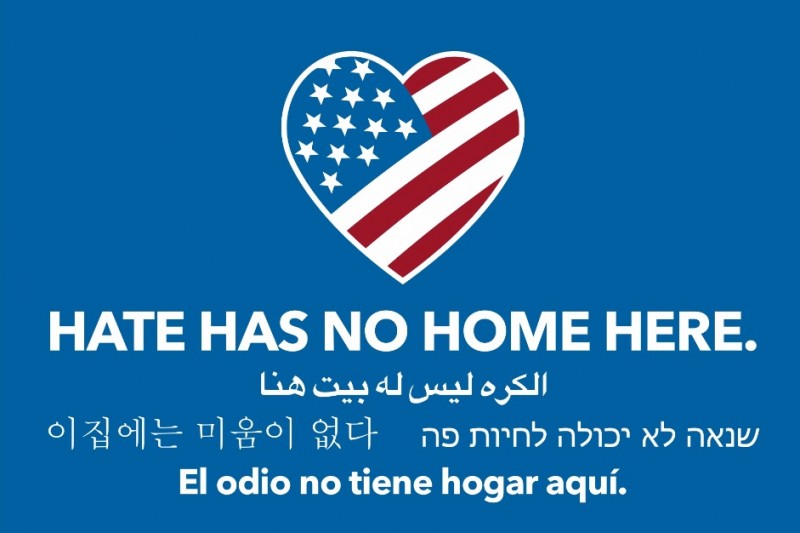 Hollywood North-Park Community Association are making available posters to put in windows, decrying the hate and violence which is growing in our nation. Our church supports these efforts, and encourages you to place a poster in your window. They are available for free at the back of the worship area. For more information, to order a yard sign, or to make a donation so more posters and signs can be printed, please visit their home page.