Adult Choir
12/10/17
Tomorrow after worship. Grab some refreshments downstairs after worship, then come back upstairs for a first choir rehearsal. Talk to Ruth with questions..
Devotion Booklets
We have 15 more days till Christmas, and we have daily readings for you. This Sunday, devotion booklets for adults and for families will be available at the back of the worship area. Or consider signing up for online daily devotions emailed to you: excellent options include Plough and Still Speaking.
Contemplative Wednesdays
Join us Wednesdays at 7pm, as we gather for a 30-minute service of contemplation. This time of stillness and quiet will help prepare our hearts and minds for the birth of the One who brings a deep, abiding peace.
Christmas Poinsettias:
If you order a poinsettia, we will use it to beautify our altar for the Christmas Pageant and Christmas Eve.  You may take your plant home after either of those services.  To order, put $5-10 in an offering envelope, and write "Poinsettias" on the envelope, along with your name. Last day to order is tomorrow.
Christmas Decorating - 12/10/17:
We can use your help to decorate after worship. Talk to Jack Fritts or Tom if you can help.
Christmas Pageant - Sunday, December 17:
Join us at Sunday worship as children, adults, and choirs proclaim the news once again that Jesus Christ is born. Holy Communion will be held on the following Sunday instead of 12/17. (Children should come to the Kids Club area at 10:00am to rehearse tomorrow.)
Christmas Caroling - Friday, December 22, 6:30pm:
Come join with others as we sing beautiful Christmas carols in the neighborhood.
Christmas Eve - Sunday, December 24:
We will gather for Sunday morning worship with Communion at 10:30, and hold our annual Candlelight Service of Carols and Readings at 11:00pm.  Come early because parking can be a challenge for this service. (There is no service on Christmas Day.)
---
Small Groups
If you are not in a small group here at church, you could be! We have a Sunday morning Bible study, and several groups that meet during the week. We are ready to launch more groups now that we are in the new year. Are you interested? Contact Tom, and he will arrange a get-together for interested people.
2018 Offering Envelopes & Electronic Giving
For anyone not currently giving electronically, your offering envelope boxes will be available on the back table tomorrow. If you want envelopes, talk to Amy Keller or to Tom. Envelopes for children will be available starting in January.
Hate Has No Home Here - Posters for Free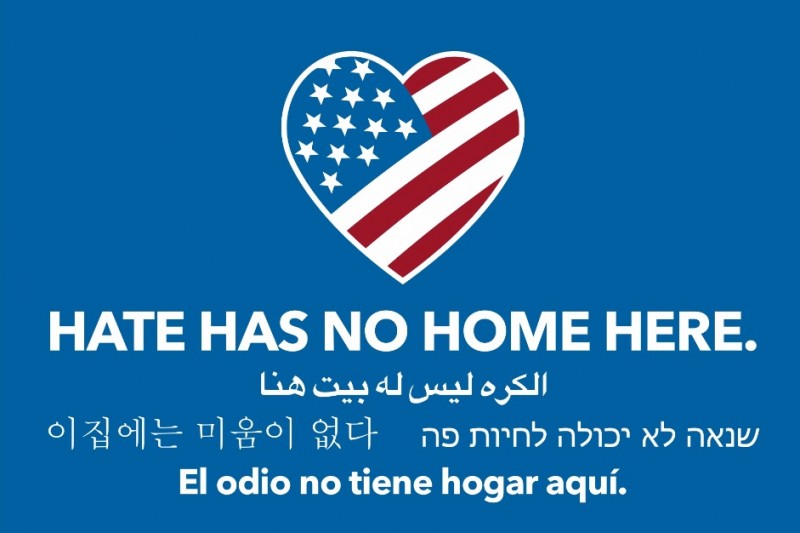 Hollywood North-Park Community Association are making available posters to put in windows, decrying the hate and violence which is growing in our nation. Our church supports these efforts, and encourages you to place a poster in your window. They are available for free at the back of the worship area. For more information, to order a yard sign, or to make a donation so more posters and signs can be printed, please visit their home page.